Have a friend with a CDL but no driving experience? Now through the end of October, if you run team with them for 1 year, they can drive at CTI. And don't forget, after they run 10,000 miles, you get a $500 referral bonus. This is a great opportunity to bring on a family member or friend that wants a trucking job, but doesn't have experience yet.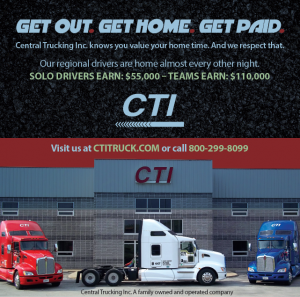 CTI offers great benefits for its drivers, including health and dental insurance, 401k with an employer match, and ALL stops PAID. Flexible scheduling and great home time makes Central Trucking Inc. the obvious choice for professional drivers looking for  trucking jobs.
Bring a friend on today and let them see what it's like to work for a family owned and operated company.
Get Out. Get Home. Get Paid
Are you ready to start your career with CTI? Call us today at 1-800-299-8099 or apply online!