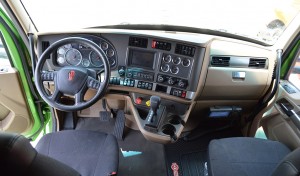 Old equipment. You've seen it on the interstate, or perhaps you've even had to drive it. You're constantly worrying about breaking down alongside the road in the middle of the night, or risking getting pulled in for an inspection every time you cross a scale. Old equipment is unsafe and costs you time. In trucking, time is money. If you're broke down somewhere, you aren't getting paid. Trucks without PrePass and Pike Passes cause you to lose time on the road, and that time adds up. Your truck and trailer are the tools you use to do your job. Why do a job with old worn out tools?
The CTI advantage
Our short trade-in cycles on our equipment ensure that you're never operating equipment older than 3 years.
Peterbilt 579 tractors with automatic transmissions, refrigerators, inverters, all electric idle free unit and fuel fired heaters.
53 Ft Utility Trailers with ThermoKing S600 Reefer Units
Omnitracs Satellite units with E-Logs to legally and conveniently maintain your logs.
All trucks equipped with PrePass and PikePass, saving you time on the road.
TracKing by ThermoKing Asset Tracking and Management system on all Trailers.
Onsite maintenance at our terminals ensures that trucks are well maintained and serviced promptly, keeping you moving when you're on the road.