Central Trucking Inc. prides its self on the quality of our equipment. Our short trade cycles and in house maintenance ensure that our trucks are safe and dependable. As we start our new trade cycle, we are pleased to announce the arrival of the new 579 Peterbilts to the fleet. Here is a little more information on our new trucks, from Peterbilt:
Cab
By designing our new cab around the driver, we've created an environment that drivers want to be in. The result is a spacious and ergonomic cab interior designed to put everything in reach and with the driver in mind. A new driver display package features large, easy-to-read, operation-critical gauges. The multi-function steering wheel features convenient access to cruise control and audio controls. Switches are backlit for enhanced nighttime visibility. Peterbilt's SmartNav system, an integrated telematics and infotainment system, provides real-time truck monitoring, truck-specific navigation, hands-free Bluetooth connectivity and satellite radio.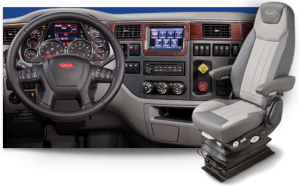 Sleeper
The Model 579 features a generously sized sleeper that combines comfort with productivity in an ergonomic business area. The bunk holds an 82-inch mattress, the largest in the industry, and provides the amenities of home that Peterbilt is known for. An innovative television mount accommodates flat-screen TVs on a convenient swivel. Abundant overhead storage spaces are thoughtfully designed and contribute to more flexible organization. Strategically placed LED lighting creates a pleasant ambiance for reading and working and saves battery life.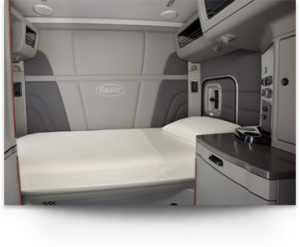 Safety
To ensure the headlamps on the 579 were the best and the brightest, our engineers traveled to 10 countries and logged countless hours of research, testing and improving. The results are headlamps and fog lamps that have the best down-road visibility and coverage in the industry.
Designed for a consistent beam distribution and exceptional overall road coverage, our headlamps deliver a homogenous pattern and less eye fatigue. A large, one-piece windshield aids visibility and standard air-disc brakes significantly reduce stopping distances.